Run
Running all the time
Running to the future
With you right by my side

Me
I'm the one you chose
Out of all the people
You wanted me the most
I'm so sorry that I've fallen
Help me up let's keep on running
Don't let me fall out of love
Running, running
As fast as we can
I really hope we make it
Do you think we'll make it?
(Do you think we'll make it?)
We're running
Keep holding my hand
It's so we don't get separated

Be
Be the one I need
Be the one I trust most
Don't stop inspiring me
Sometimes it's hard to keep on running
We work so much to keep it going
Don't make me want to give up

(The future)
The future is there…looking back at us. Trying to make sense of the fiction we will have become.
"We do not grow absolutely, chronologically. We grow sometimes in one dimension, and not in another; unevenly. We grow partially. We are relative. We are mature in one realm, childish in another. The past, present, and future mingle and pull us backward, forward, or fix us in the present. We are made up of layers, cells, constellations." - Anais Nin
Part of my dream garden.
Q:Are you happy?

Anonymous
Dear Anonymous,
At first I answered your question with a simple "yes, overall I'm a pretty happy person". However, the more I think about it, the more complicated the answer becomes. 
What is happiness? Happiness has so many factors; it's a cross product of what we think, do, and feel. Happiness means different things to different people. What makes me happy perhaps doesn't make you that happy. We all rank personal growth, family, career, etc on different scales. To each their own.
What makes me happy?
On a personal level, I am happy being myself, believing in myself, being independent, experiencing life, and growing stronger mentally and emotionally.
Making memories and building stronger relationships with family and friends.
Taking care of my parents, so they don't have to work anymore. Sometimes we're so busy growing up that we forget that our parents are growing old.
Travelling the world as much I can. I want to explore and get lost…there's so much in the world to see, do, and learn beyond my shell.
Leaving a trail. To know that I served some purpose on this Earth besides just living and dying. To know that I left a world a better place than I found it.
In regards to career, there's a lot I have yet to do. Being successful, doing what I love, being creative makes me happy. I want more, even if I don't know what "more" means sometimes. Success takes precedence before other areas of my life; it seems to unlock the doors to whatever else I want in life. I can't have the freedom I want, the money to travel, the money to take care of my family, or the relationship I might want in the future if my career isn't in place first. 
Happiness is not a destination but a choice, a journey. In a sense, it's a never-ending pursuit, not saying that we are always chasing and never achieving, always going and never arriving, but saying happiness is an ongoing process. That process [happiness] is living life with no regret or reservation; struggling, enduring, and conquering no matter what the circumstances; doing what we love; having a passion; being the best person you can be; loving and being loved; and taking the time to be thankful.
I believe that there is an unlimited supply of happiness — a quota that can never be filled. That simple thought in itself makes me happy.
Special thanks to my friend for reminding me to live in the present and to be more in the now. Sometimes we reflect too much on the past and its memories or contemplate too much about the future that we forget about embracing the present.
"It is not in the pursuit of happiness that we find fulfillment, it is in the happiness of pursuit."
- Denis Waitley
Futuristic Turtle Shell backpack. BADASS!
Meiosis by Davidi Galid
The NIKE MAG is no longer the "greatest shoe never made." The mythical shoe that originally captured the imagination of audiences in Back to the Future II is being released – and they're here to help create a future without Parkinson's disease.

1500 pairs of the 2011 NIKE MAG will be auctioned on eBay with all net proceeds going directly to The Michael J. Fox Foundation. 

The original NIKE MAG was worn by the Back to the Future character Marty McFly, played by Michael J. Fox, in the year 2015. It came alive, lit up and formed to Marty's foot. The 2011 NIKE MAG shoe was designed to be a precise replica of the original from Back to the Future II. The aesthetic is an exact match, down to the contours of the upper, the glowing LED panel and the electroluminescent NIKE in the strap. The 2011 NIKE MAG illuminates with the pinch of the "ear" of the high top, glowing for five hours per charge.

The 2011 NIKE MAG - It's About Time.

I want a pair so baddd!
Daft Punk's Tron Legacy Soundtrack always gets me going lol. It makes everything seem more epic and badass. 
And wth I missed the memo on these limited edition Tron T1 Daft Punk Headphones by Monster…
Head Monster Noel Lee noted, "Monster is proud to have played our part in creating headphones that live up to the breakthrough musical experience offered by Daft Punk in TRON: LEGACY. These special-edition headphones not only reflect the design sensibilities of Daft Punk, they enhance both gaming and home cinema, with a 'higher definition' experience, and all the power and potential of the ultimate electronic music listening experience and the first headphones ever designed to be optimized for both stereo and fully immersive headphone surround-sound experience."
Nearly a decade after leaving Hollywood in its rearview mirror, BMW is back in a big way. BMW launches its largest film marketing campaign since its efforts with the James Bond franchise, a global "Mission to Drive" campaign for Paramount's "Mission: Impossible — Ghost Protocol," that involves TV, print, radio, Internet and in-dealership ads.
"Ghost Protocol" will prominently feature BMW's 6-series convertible and its futuristic Vision EfficientDynamics concept car in several key action sequences. The Vision is being reproduced as the i8 hybrid and electric sports car. The 356-horsepower all-wheel-drive plug-in 2+2 car is headed for production in 2013. The hybrid sports car combines M Series performance with better fuel efficiency and less emissions than in many compacts; BMW performs this magic by marrying its ActiveHybrid technology with an extremely economical engine and excellent aerodynamics.
But what BMW really wanted to show off in the film was its in-car ConnectedDrive technology that provides features like interactive traffic and parking assists, mobile device connectivity, entertainment apps, text-to-speech controls and windshield displays.
So far the Vision is just a concept. Still, BMW has made it clear its plans to make sustainability a cornerstone of its lineup, so we're sure to see some of the technology in cars in the near future. 
Sleek, futuristic, fast, eco-friendly: just how I like it. 
"Serenity: The future belongs to those who believe in the beauty of their dreams."
Monos modular wall system / stunning contemporary wall unit by MisuraEmme
Broad expanses of reflective glass create the sleek and futuristic look of the wall unit, hiding and revealing items as you please. Being a modular system, the wall unit is flexible and easily adapted to your specific needs. I am in love with modular systems; it allows for cutting-edge style, creativity, and loads of storage. *Swoons*
Chrome Audi R8. I'm in <3
Dubai World Islands, The World man-made archipelago is consisting of 300 islands that have been constructed in the shape of the Earth and featuring the different countries of the world. 
It's an amazing and one-of-a-kind project. Added to the bucket list.
Eeeeeeeee-v! More robot <3<3<3!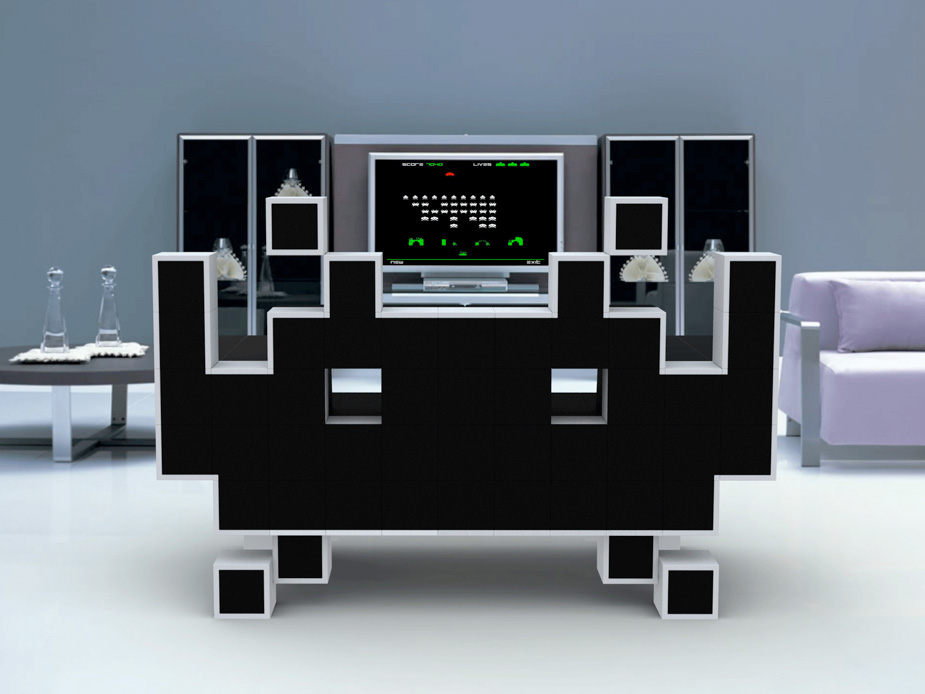 What's great about this Space Invaders couch design by Igor Chak is that not only does it appeal to my inner videogame, but its modernist look makes my inner design geek happy as well.
Uber want!